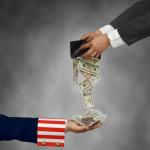 In a Chapter 7 and Chapter 13, as long as four basic criteria are met, both state and federal income taxes can be discharged.
The tax return due date was at least 3 years before filing bankruptcy.
The filing of the tax return must have been done at least 2 years before the bankruptcy filing.
At least 240 days before filing bankruptcy, the taxes must have been

assessed

.
The tax return is not fraudulent and the taxpayer is not guilty of tax evasion.
For example – 2009 taxes were not due until April 2010, so based on the first criteria above, they could not be discharged until 2013 when they will then be 3 years old.
Sales taxes, taxes withheld from employee salaries, taxes that have priority status, and income taxes that do not meet the criteria above cannot be discharged (wiped out) in a bankruptcy.  However – they can be paid out over the period of a Chapter 13 plan (3-5 yrs).  This is often a lower payment amount than what the IRS would make arrangements for and the bankruptcy stops the penalties and interest that would  otherwise continue to accrue.  As well, if the debt is large and payment in full would not be possible within a single Chapter 13 plan (max of 5 yrs), it is possible to file back to back Chapter 13 cases that would extend the protection of the court and payment plans longer than 5 years.
There are various strategies to handling tax debt so seek consultation with an experienced bankruptcy attorney as soon as possible to lay out a plan that will offer you the most benefit from what the law provides.