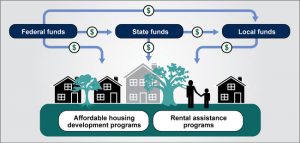 There are many state and local programs to help if you are having issues with rent, utilities, or other housing costs for renters and programs to help assist if you are a landlord.  You can visit this website to find programs in your state:
https://www.consumerfinance.gov/coronavirus/mortgage-and-housing-assistance/renter-protections/find-help-with-rent-and-utilities/?utm_source=newsletter&utm_medium=email&utm_campaign=ERAPscams
To apply you must first find a program in your state or local area – each program has their own policies and procedures for their local communities.  Emergency rental assistance could help cover rent, utilities, home energy costs, and other utilities. It could potentially even help cover reasonable late fees, internet, and moving expenses or security deposits for families who have to move. Each program is centered to their local area.