The E-Government Act of 2002, contains laws governing privacy of information in court files in order to protect personal, sensitive, and private data from being available to the public.  Federal courts had to immediately update their rules and practices to be compliant with this Act.  These rules state that personal identifying information is prohibited and local rules also contain cautions and restrictions on the disclosure of other information deemed sensitive.
Specifically listed as examples of personal identifying information were:
Social Security Numbers;
Financial Account numbers;
and Birth Dates.
The following categories of information were deemed sensitive:
Personal identifying numbers, such as driver license numbers;
Medical records, treatments, and diagnoses;
Employment histories;
Personal financial information;
Proprietary or trade secret information.
The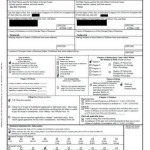 restrictions placed on personal identifying information are also applicable to sensitive information.  Federal Rule of Civil Procedure 5.2 and Federal Rule of Bankruptcy Procedure 9037 also contain sections on redacting personal data before filing it in court papers.
An individual's Social Security Number and other private information is of no use and not a concern of the general public.  Interfering with the private affairs of a individual by disclosing this sensitive and personal information intrudes upon their right to privacy and creates a risk of identity theft.
Anyone who has suffered exposure to identity theft should be entitled to damages.  These damages may consist of the violating party having to cover the expense of future credit monitoring, fees for security freezes, providing periodic credit reports at no cost, civil contempt and sanctions for violating the policies, rules and orders of the court, injunctive relief to render the offending document inaccessible to the general public, and compensatory and punitive damages, attorney fees, expenses and suit money.
In collection type cases and bankruptcy cases the underlying debt should be canceled as part of a settlement or judgment.  I have sued several creditors for revealing such information on documents within bankruptcy cases that put my client at risk.  It shouldn't happen at all, but it can. If it does, immediate action to get the document removed or redacted is first priority followed by taking action against the party that violated the rules. It is simply unacceptable.