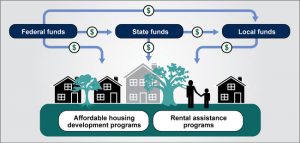 There are many state and local programs to help if you are having issues with rent, utilities, or other housing costs for renters and programs to help assist if you are a landlord.  You can visit this website to find programs in your state:
https://www.consumerfinance.gov/coronavirus/mortgage-and-housing-assistance/renter-protections/find-help-with-rent-and-utilities/?utm_source=newsletter&utm_medium=email&utm_campaign=ERAPscams
To apply you must first find a program in your state or local area – each program has their own policies and procedures for their local communities.  Emergency rental assistance could help cover rent, utilities, home energy costs, and other utilities. It could potentially even help cover reasonable late fees, internet, and moving expenses or security deposits for families who have to move. Each program is centered to their local area.
For eligibility you must have agreed to pay rent for your home or mobile home; however, you do not necessarily need a lease and it could cover apartments as well.
You also need the following:
At lease one member of your household has:

Qualified for unemployment or should qualify
Lost income
Owed large expenses, or
Had other financial hardships

Your household income is below a certain amount based on where you live
At least one member of your household is experiencing housing instability – at risk of becoming homeless or would have trouble finding a stable place to live.
Generally the federal rules allow local rental assistance programs to cover rent or utilities for low-income families. This would include renter households with income up to 80% of the Area Medial Low Income with adjustments to family size.
To show eligibility, you will be asked to show your income and that you are experiencing housing instability. You must sign a written statement that the information in your application is correct and complete, and that you will use the assistance for the costs it is meant to cover.
To show housing instability you may also be asked to show a past due rent bill or eviction notice, proof that your live in unsafe or unhealthy living conditions, or other proof that the program may ask for. Each program has their own rules and proof.
To show where you live and the rent that you agreed to pay, you can show an agreement signed by you and your landlord if you did not sign a lease. If you did not sign a lease document, you can show your address by utility bill, or a statement from your landlord. For the rental amount agreed upon you can show bank statements, check stubs, or other paperwork showing regular rent payments.
Each program is different on whether you will receive the money directly or if it will be sent directly to your landlord. In some instances the program will contact your landlord directly and if they do not agree or do not respond, your local program may be able to give you the funds directly and you have to use it as proposed. In other programs, the money will just be sent to you without contacting your landlord first.
It does not matter how long you have lived in your current rental home, if you meet the requirements the assistance is available to you.
If you own your mobile home, but rent the land it sits on, you may be eligible to receive rental assistance for the lot and some utility assistance.
If you have a "rent-to-own" agreement with your landlord, you can still be eligible as long as:
You have not signed or co-signed a mortgage for the property that you are renting-to-own
You have not exercised the option to purchase the property.
You may still qualify for rental assistance if you receive a federal rent subsidy such as a Housing Choice Voucher, Project-Based Rental Assistance, or Public Housing. If your income has changed, you might qualify for lower rent or a hardship exemption that allows you to skip one or more rental payments. You need to ask for "income recertification" through your Public Housing Agency (PHA) or landlord.