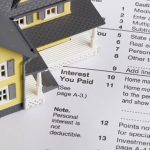 Is your Chapter 13 plan paying mortgage payments that were delinquent when you filed bankruptcy?  Is your Chapter 13 plan paying the current mortgage payments through the bankruptcy?  If so, you are missing out on your mortgage interest tax deduction.
Your mortgage company often won't send the IRS or the trustee the Mortgage Interest statement each year for what you paid through the plan.
So you don't have any proof that mortgage interest was paid, and neither does the IRS.
Here is how you can claim the credit for mortgage interest: Continue reading