Criminals are impersonating IRS agents and making aggressive and threatening phone calls to taxpayers.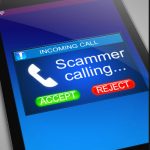 During filing season, the IRS sees a surge in scam phone calls that threaten police arrest, deportation, license revocation and other things. Be on guard against these con games that happen throughout the year, especially during tax season.
"Don't be fooled by phone calls by criminals impersonating IRS agents with threats or promises of a big refund if you provide them with your private information," said IRS Commissioner John Koskinen. "If you're surprised to get a call from the IRS, it almost certainly isn't the real IRS. We generally initially contact taxpayers by mail."
"Everyone can share the word about scam phone calls– just hang up and don't engage these people," Koskinen said. "Despite recent successes against phone scam artists, these scams constantly evolve and people need to remain vigilant. We'd like to thank law-enforcement, tax professionals, consumer advocates, the states, other government agencies, the Treasury Inspector General for Tax Administration and many others for helping us continue this fight and protect taxpayers."
How do the scams work?